This would seem to be an appropriate theme song for the weekend. Cozumel though beautiful and lovely was also quite warm and humid for the weekend. When we first arrived at the hotel I was a little concerned about the heat, but once we figured out how to keep the room as cool as an igloo, the heat outside was embraced. Leading up to the race I was spoiled by the inclusions of an all inclusive resort as well as the beauty of the island. I was provided plentiful pineapple juice, and meals on command was a significant plus to the stay. I got to swim "under the sea" with all the beautiful colorful fish for my race preparation swims. I even spied a mini stingray!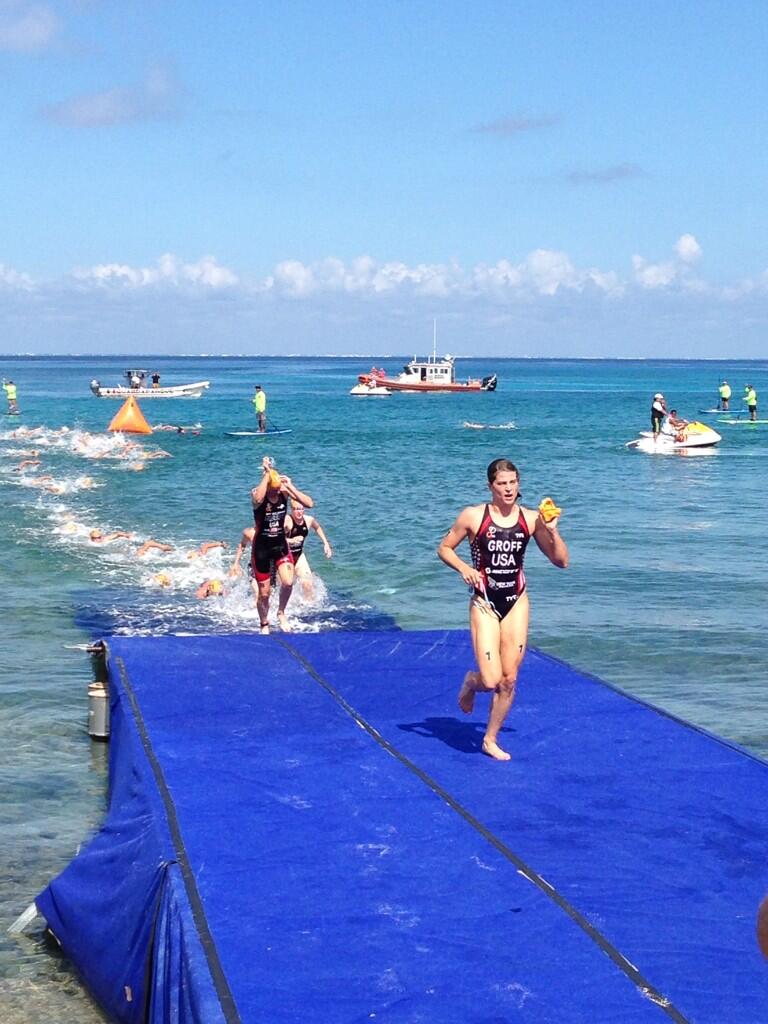 Second out of the water behind Sarah Groff


Come race morning I felt as ready to go as I could coming off my shark bite (clarification: not an actual shark bite, actual bike bite in Colorado Springs). A main goal I had was to have a really good swim since in my previous races I had been right off the back of the front pack. I got out hard and saw Sarah Groff's (fellow American as well as 4th place finisher in the 2012 Olympics) feet ahead of me knowing she would be a good person's feet to stay on. So I committed to that and it worked! She was the first person out of the water and I was the second!

Although we originally started riding with a smaller group, the chase pack caught us and then we had a group of about 15 riders. Getting off the bike and onto the run I made the decision to go with the Olympic champion Nicola Spirig. Well that didn't last long and I began dying pretty handedly throughout the rest of the race. My legs felt heavy and just didn't feel as race ready as I would have liked.
Bike pack, that's me on the far left!
I ended up finishing in eighth place, which although it is not an awful place to finish by any means, I had hoped to place higher. I would have liked to know what I would have been capable of doing had I been in the same run fitness as I was before my bike accident. However, silver lining is having this as my final World Cup of the season certainly leaves me hungry for more next season.
Post race I got to enjoy an extra day in Cozumel consisting of some frozen drinks, clear water swimming, island riding and relaxing. Now I'm back in Colorado Springs to complete my last two weeks of training before my final race: The
San Diego Super Sprint
on October 26th!